Laura Levera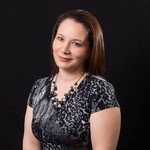 Laura has been in the field of second language education for over fifteen years. She began her studies at Universidad Nacional de Asuncion in 1998, where she graduated with a BA in English in 2002. During her time as a university student, she worked as a teacher aide at the American School of Asuncion and Colegio Internacional.
In her home country, Paraguay, Laura worked as an ESL teacher in Grades 1-5.
In 2003, she began her graduate studies in Spanish at Kansas State University where she also worked as a Graduate Teaching Assistant for four years (2003 - 2007). During her time there, she taught various levels of Spanish such as 101, 102, 201, 301 and 420 (Spanish Conversation). She was also a member of Sigma Delta Pi, the National Collegiate Hispanic Honour Society. She received her MA in Spanish in 2007.
Laura's research interests include second language acquisition, the culture, traditions and celebrations of Latin America. Her style of teaching is very dynamic, encouraging students to use their newly acquired skills to communicate and interact with each other and other Spanish-speaking people.
Education: - M.A. in Spanish, Kansas State University, 2007 - B.A. in English, Universidad Nacional de Asunción - Instituto Superior de Lenguas 2002 - Freelance Translator Eng > Span