Dileep Athaide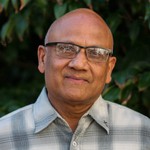 Dileep Athaide graduated with a B.Sc. (Hons) in the Geological Sciences from McGill University and a M.Sc. and Professional Teacher's Certificate from UBC. He held a full-time appointment in Geology and Foundations (Adult Education) at Capilano College/University from 1975 to 2011. He has also been a Summer Session Instructor at UBC's Department of Earth Ocean and Atmospheric Sciences since 1977.
At Capilano, Dileep held several administrative roles, such as Department Head and Division Chair, and served on numerous institutional committees. He also contributed much to the provincial post-secondary system, serving on bodies such as the BC Council for Admissions and Transfer, the Provincial Steering Committee on Prior Learning Assessment and Recognition, and as longtime chair of the Earth Sciences Articulation Committee.
Dileep has also served as a distinguished leader in the Labour Movement, holding successive elected positions culminating with his role as President of the National Union of the Canadian Association of University Teachers and a Vice-President of the Canadian Labour Congress. He has contributed much on issues of Social Justice, Human Rights, Environmental Protection and Community Engagement, both locally and abroad. From 2011 to 2014 he held the position of Labour Staff at the United Way of the Lower Mainland.
A sportsman and musician, Dileep is the father of three children in their twenties, and an active member of Sacred Heart Parish in Ladner. Following four years of theological study, he earned a Graduate Diploma in Pastoral Ministry from St. Mark's College in May 2015. He was ordained as a Permanent Deacon in the Archdiocese of Vancouver on December 8, 2015, and now serves as a Parish Deacon at Sacred Heart (Ladner) with Outreach Ministries at the Tsawwassen First Nation and to Seafarers at Deltaport-Westshore Terminals.