Dr. Kelleen Wiseman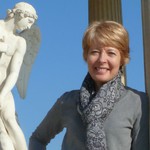 Discipline:
Economics
Kelleen Wiseman teaches economics with Corpus Christi College and business economics and strategy with The University of British Columbia. Her teaching focuses on the presentation and application of business economic principles to assist in understanding real world consumer behaviour, global economic issues and firm strategies associated with the food and resource system. Her undergraduate courses at Corpus Christi College include Principles of Microeconomics and Macroeconomics. Her graduate and upper year undergraduate courses with the Food and Resource Economics group at The University of British Columbia include Business Management in Agri‐Food Industries, Market Research and Analysis in Agri-Food Industries, and Financial and Marketing Management in Agri-Food Industries.
Her research interests include the economics of food quality, role of regulation in supporting health communication to consumers, understanding consumer demand for processed food with healthy and safety attributes, food manufacturers' response to consumer demand for healthier products, and the role of country identification and sourcing in consumer selection of processed food products. Her current research project is "Market Failure and Food Claims: An Assessment of the Prevalence and Usage of the Exaggerated Product Claim."
In addition, Kelleen has over fifteen years of business management experience in the food and agricultural business sector with firms such as Oracle Corporation, Santa Clara Retail Management Institute, BC Ministry of Agriculture and Land, Farm Credit Canada and the Canadian Farm Business Management Council.