Jade Standing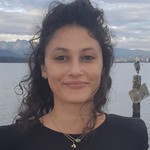 I studied at Royal Holloway, University of London (BA), King's College London (MA) and the University of British Columbia (PhD). From 2019-2021 I taught academic writing at UBC. I have been teaching at Corpus Christi and St. Mark's Colleges since 2017.
Teaching and Research
I teach 'English Literature to 1750', 'Bard on the Beach: An Introduction to Shakespeare and Contemporary Performance' and 'Introduction to Literary Genres', among other courses at Corpus Christi.
My primary interests lie in sixteenth- and seventeenth-century literature, particularly Shakespeare and drama. My work examines the intersection of theology, law and literature in early modern culture, the reception of Shakespeare on the London stage, and the history of ideas.
Tangentially, I also research bees in literature and have lectured on apian symbolism and mythology, and the environmental politics of beekeeping.
I am currently revising a book manuscript, The Play of Conscience in Shakespeare's England, and working on a new research project about networks of performance and action in Shakespeare's plays.
Select Publications
"Conscience-Caught: Historicizing the Religious and Legal Traditions of Conscience in Hamlet." Shakespeare Quarterly 73:3-4 (2022): 177-198.