Bronwyn Malloy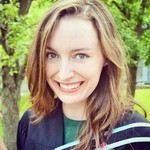 Title:
English Instructor
Research and Teaching:
Bronwyn teaches English 110 at Corpus Christi College and is a PhD Candidate at UBC. Bronwyn grew up in Vancouver, and completed her undergraduate degree at UBC before moving to Montreal to do her Master's at McGill. Having had enough cold weather for one lifetime, Bronwyn returned to Vancouver to do her PhD at UBC, where she is still writing her dissertation,"'Hold ourselves together with our arms around the stereo': Literary, Theoretical, and Practical Approaches to Contemporary Alternative Song Lyrics." As you can probably tell from that title, Bronwyn's research revolves mostly around contemporary song lyrics — and music makes an appearance in every course she teaches. Bronwyn's teaching style values class discussion mixed in with every lecture, and every term she leaves an open unit so that the readings and take-home assignment can reflect the interests of the students. In 2018, Bronwyn won a Killam Graduate Teaching Award at UBC.
Degrees:
PhD in English Literature, UBC (2014-2019)
MA in English Literature, McGill University (2012-2014)
BA Hons. in English Literature, UBC (2008-2012)
Recent Publications and Conference Papers:
Malloy, Bronwyn. "Listening to Canada: The Weakerthans' 'One Great City!'" CanLit Guides. 2017.
Malloy, Bronwyn. "'Grit of Women': (Re)Sounding Feminist Narratives in Christine Fellows's Song Lyrics. ACCUTE Conference at Congress 2018, Regina, May 2018.
Malloy, Bronwyn. "'Everybody tests the membrane / but no one pushes through': Theorizing Lyric Narration in John Darnielle's Body of Song." 2018 International Conference on Narrative, Montreal, April 2018.
Malloy, Bronwyn. "'Wombcore': Tanya Tagaq's Throat Singing as Feminist Praxis." American Comparative Literature Association (ACLA), Los Angeles CA, March 2018. Panel Chair.