Dr. Nicholas Olkovich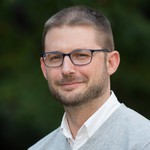 Associate Professor, Marie Anne Blondin Chair in Catholic Theology, St. Mark's College
Education:
Ph.D., Theology, University of St. Michael's College (2009-2016)
S.T.L., Regis College (2009-2013)
M.Div., University of St. Michael's College/University of Toronto (2005-2009)
B.A., Honours, History and Philosophy, University of Toronto (2001 – 2005)
Teaching and Research:
Nicholas Olkovich comes to Vancouver from the Faculty of Theology, University of St. Michael's College in Toronto where he taught and served as Director of Field Education and Pastoral Formation from 2015-2017. During his MDiv and PhD programs, he served as parish catechist and RCIA Director at a large parish in Toronto's west-end.
Nick teaches in the areas of foundational, systematic and pastoral theology. His ongoing research focuses primarily on the relationship between ethics, politics and religion in democratic contexts and on a variety of issues in theological anthropology, ecclesiology, and foundational theology. His teaching and research is strongly influenced by the work of Canadian Jesuit philosopher and theologian Bernard Lonergan.
Publications:
"For an Inclusive Populism: Politics and Peoplehood in Chantal Mouffe and Pope Francis," Critical Theology 4.3 (2022): 9-15.
"Complicating the Reception of Lonergan on 'Sacralization and Secularization,'" Irish Theological Quarterly 86.2 (2021): 164-183.
"Whose Populism? Which People? Mouffe, Girard and Lonergan in Dialogue," Religious Studies and Theology 39.2 (2020): 177-193
"Solidarity and the Possibility of Global Human Rights," in Everything is Interconnected: Towards a Globalization with a Human Face and an Integral Ecology. Milwaukee: Marquette Univ. Press, 2019 (57-78)
"Dimensions of Freedom: Human and Christian," Touchstone 37 (2019): 31-41.
"Rethinking the Politics-Religion Distinction," Political Theology 19 (2018): 227-246.
"Vatican II and Thomist Revivalism: MacIntyre and Lonergan on the Dialectic of History," in The Promise of Renewal: Dominicans at Vatican II. Adelaide: Australasian Theological Forum (ATF Press), 2016 (159-183)
The Promise of Renewal: Dominicans at Vatican II. Adelaide: Australasian Theological Forum (ATF Press), 2016 (co-edited with Michael Attridge, Darren Dias and Matthew Eaton)
"Politicizing Religion: Cavanaugh, Levinas and Lonergan in Dialogue," with Matthew Eaton and Michael Buttrey, in Didaskalia 25 (2015): 103-127
"Reinterpreting Original Sin: Integrating Insights from Sociology and the Evolutionary Sciences," The Heythrop Journal 54 (5) (2013): 715-731
"Conceptualism, Classicism, and Lonergan's Retrieval of Aquinas," Pacifica: Australasian Journal of Theology, 26 (1) (2013): 37-58
"Beyond Radical Particularism: A Lonerganian Response to S. Mark Heim's 'Pluralistic Inclusivism," Method: Journal of Lonergan Studies 2 N/S (2011): 89-122