Frieda He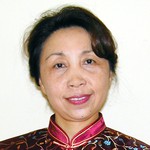 Discipline: Language - Chinese Mandarin
Frieda He has been in the field of language education for over twenty years. Through her work in Mandarin Chinese instruction and curriculum design in Japan and Canada, Frieda has successfully designed and delivered in-house Chinese Language and Business Etiquette Training Programs for government agencies, companies and law firms.
In addition to teaching Mandarin course within Double Masters Degree Program and Mandarin CHIN 100, 101, 200, 180, 182, 291 at SFU, she also teaches Mandarin and Business Mandarin courses and Japanese courses for UBC Extended Learning.
Frieda is a member of the Canadian Association for Teaching Chinese as a Second Language. She has written two textbooks on Business Mandarin and the Business Mandarin course she designed for UBC Extended Learning was recommended by The Globe and Mail Report on Business in the Executive Education Column.
Frieda uses a variety of teaching techniques to motivate and engage her students in learning Mandarin.
Her research interests include Chinese language pedagogy and culture input, as well as using online media tools for effective Mandarin learning.
Degrees:
Bachelor of Arts in English Literature from Liaoning University, China (1984)
Graduate Diploma in Demography from Australian National University, Australia (1989)
Masters in Economics from Kyushu Sanygo University, Japan (1997)
Ph. D course work in Management Marketing Strategy at Kyushu Sanygo University, Japan (2002)
BC Provincial Instructor Diploma (2016)