Kathryn Mckay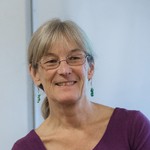 Kathy's work focuses on the examination of Canadian and Indigenous histories. She endeavours to find examples where these narratives overlap and others where they diverge. She is also interested in the history of medicine, specifically the history of psychiatry and marginalized peoples in Canada. She has taught at Corpus Christi since 2017 and finds that the smaller classes encourage teaching and listening rather than just lecturing. She believes that at Corpus there is the real possibility to engage students through discussion both during and after class.
Education
B.A. (1999) and M.A. (2002) in History from University of Victoria.
Publications
2018 "Settler Colonial thought and psychiatric practice in early twentieth century British Columbia, Canada," in Archiving Settler Colonialism: Culture, Race, and Space edited by Rebecca Hightower and Yuting Huang, 205-17.
2018 "Disturbing the Dead: Diversity and Commonality among the Sto:lo" in Towards a New Ethnohistory: Community Engaged Indigenous History edited by Keith Carlson, John Lutz, Sonny McHalsie and Dave Schaepe, University of Manitoba Press, 133-151
2015 "From Blasting Powder to Tomato Pickles: Patient work at the provincial mental hospitals in British Columbia, Canada" in Work, Psychiatry, and Society, edited by Waltraud Ernst, Manchester University Press, 99-116.
Current Research Projects
The committal of Indigenous people in BC to the provincial mental hospital from 1900-1950.