Kenton MacDonald-Lin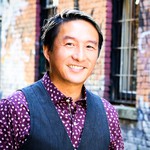 Kenton MacDonald-Lin has been in the media, film, and commercial photography sectors since 2003. Working alongside and learning from the best in these industries, he is a mix of being a creative and a people person. He has written, produced, and directed films (feature-length, shorts, and documentaries) and has helped companies with their brand storytelling.
Being an instructor in the arts and communications program at Corpus Christi is an honour. He writes, "so much of our culture has been shaped by media and film. Walking alongside students to explore, ask tough questions, and ignite imagination vocation and leadership in society through arts is one of my passions. As co-learners, co-creators, co-collaborators, let's learn, create, and change the world through storytelling!"
He loves being part of the team of instructors at Corpus Christi College | St. Marks. Whether it be film, screenwriting, film production, acting, film history, and digital media, there is so much he and his colleagues hope to impart to students.