Fr. Nicholas Meisl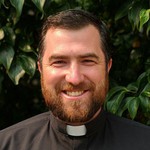 Education
PhD candidate, New Testament, Durham University
SSL, Pontifical Biblical Institute (2018)
STB, Pontifical University of Saint Thomas Aquinas (2012)
BA, Seminary of Christ the King (2007)
BASc, Honours, Engineering Physics, Simon Fraser University (2005)
Teaching and Research
At St. Mark's and Corpus Christi Colleges, Fr. Nick teaches New Testament and Old Testament studies. In his doctoral studies, he is researching Paul's views on sexuality, marriage and singleness under the supervision of Professors John Barclay (primary supervisor, Durham) and Harry Maier (secondary supervisor, Vancouver School of Theology).
Fr. Nick was ordained a priest for the Archdiocese of Vancouver in 2013. As part of his formation, he spent several years with the Missionary of Charity Fathers, serving in various ministries in Tijuana, Mexico City and Rome. Prior to teaching, he served in several parishes in Surrey and Richmond. In addition to teaching at St. Mark's and Corpus Christi Colleges, he is involved in parish and high school ministry.
Select Conference Presentations and Publications
"What Was Moses Shown on Mt. Sinai?" Canadian Society of Biblical Studies. Annual Conference. Vancouver, BC. June 3, 2019.
Professional Societies
Canadian Society of Biblical Studies
Society of Biblical Literature