Dr. Rocky Mirza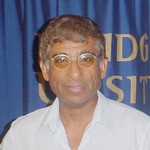 Dr. Rocky M. Mirza has a Ph.D. in economics from Simon Fraser University and a B.Sc. in economics from the University of London. Dr. Mirza has written four books on economics, politics and history since 2006. The books are:
Rise and Fall of the American Empire: a Re-Interpretation of History, Economics and Philosophy; 1492-2006
American Invasions: Canada to Afghanistan: 1175 to 2010
How the west was won and lost: Athenian Democracy to the BRICS: 5th Century BCE to 2016
Understanding the Global Shift, the Popularity of Donald Trump, Brexit and Discontent in the West: Rise of the Emerging Economies: 1980 to 2018.
These books re-interpret history and Western colonizations, from a non-Western, Third World, perspective. They are great summaries of a long historical period, from Alexander the Great to the rise of Emerging Economies like China. Dr. Mirza has also co-authored textbooks and study guides in microeconomics and macroeconomics and written several courses for Thompson Rivers University. He is currently an Open Learning Faculty Member of Thompson Rivers University. Dr. Mirza also teaches at Corpus Christi College and University Canada West. While teaching at Corpus Christi College in the Spring of 2019, Dr. Mirza wrote and taught online courses in micro and macro principles, using Canvas.
Education
Ph. D. Economics, Simon Fraser University, Burnaby B.C.
Thesis: The Influence of Marketing Activity in Macroeconomics
B.Sc. Economics, University of London, London, England.
Publications
Books
Rocky M. Mirza: Rise and Fall of the American Empire: A Re-interpretation of History, Economics and Philosophy: 1492-2006, Trafford Publishing, 2007
Rocky M. Mirza: American Invasions: Canada to Afghanistan: 1775 to 2010, Trafford Publishing, 2010
Rocky M. Mirza: How the West was Won and Lost: Athenian Democracy to the BRICS: 5th Century BCE to 2016, Trafford Publishing, 2016
Rocky M. Mirza: Understanding the Global Shift, the popularity of Donald Trump, Brexit and Discontent in the West: Rise of the Emerging Economies: 1980 to 2018, Trafford Publishing, 2019
Willis, J.F., Primack, M.L. and Mirza, R.M., Explorations in Microeconomics, First Canadian edition, CAT Publishing, Redding, California, 1991
------------------------------------------------------, Explorations in Macroeconomics, First Canadian edition, CAT Publishing, Redding, California, 1992
Mirza, R.M., Willis, J.F. and Primack, M.L., Explorations in Microeconomics, A Study Guide, First Canadian edition, CAT Publishing, Redding, California, 1991
------------------------------------------------------, Explorations in Macroeconomics, A Study Guide, First Canadian edition, CAT Publishing, Redding, California, 1992
Articles
Maki, D.R., Williams, F. C. and Mirza, R.M., Economic Benefits of Improved Television Services to Remote British Columbia Communities, Canada, Department of Communications, March, 1976
Mirza, R.M. On Keynesian Economics and the Economics of Keynes, S.F.U. Discussion Papers, September, 1973
Special Studies
"Manpower Requirements of the B.C. Construction Industry." Joint Study prepared with J. Schuff for the B.C. Ministry of Labour, October, 1978
"Price Index for T.A.'s at Simon Fraser University, 1962-1974." Prepared for the Office of the Dean of Graduate Studies, Simon Fraser University, March, 1976
Papers Presented
"Marketing Activity and Aggregate Demand," presented at the Meetings of the Canadian Economic Association, Quebec City: June, 1976
Book Reviews
Lipsey, R. G., Ragan, C.T.S. and Courant, P.N., Microeconomics, Ninth Canadian edition, Addison-Wesley Publishers, 1997
-----------------------------------------------------------, Macroeconomics, Ninth Canadian edition, Addison-Wesley Publishers, 1997
Armstrong, Muriel, The Canadian Economy and its Problems, third edition
Foster, B.A. and Tisdell, C.A., Economics in Canadian Society: Principles and Applications
Daly, Don, Managerial Economics: A Canadian Perspective
Previous Appointments
Fall 2018, Econ. 101; Spring 2019, Econ. 101 and 102; Fall 2019, Econ 101 and 102