Gerrit Krueper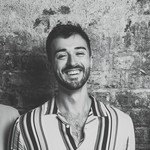 Gerrit proposes a trans-/post-humanistic theory of the cyborg theorized with the help of Japanese cyberpunk animation. His theory reads the cyborg on the means of both the cyber-body (production, resources, labor force, tools of labor/production, organization) and the cyber-brain, its immaterial realm (consciousness, species-being, social-relations, power struggles, networks).
Recent Publication Krueper, Gerrit. "Becoming Cyborg: Liberating One's Real Species-Being. A Materialist Ontology of the Posthuman." Culturally Sustainable Social Robotics. IOS Press: 2020. 501-509. Print.
Education
2019 – Present | University of British Columbia, Canada
PhD in Cinema and Media Studies
Cultural and Political Theory
2017 – 2018 | University of Rochester, New York, USA
Master of Arts in Comparative Literature.
Cultural and Political Theory.
2016 – 2017 | Research Master at the a.r.t.e.s. Graduate School for the Humanities
Prestigious Scholarship for high achieving students of the Humanities.
Extra research-oriented classes to prepare for a PhD.
2016 – 2017 | University of Cologne, Germany
Master of North American Studies.
2014 – 2015 | State University of New York at Albany (SUNY Albany), USA
1-year exchange program.
Undergraduate in American Studies.
2012 – 2016 | University of Würzburg, Germany
Bachelor of Arts in American/English Studies and Linguistics (Major) and German Studies (Minor).
Critical Theory and Postmodernism.