Richard Sandlin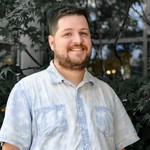 Richard is interested in philosophy, theology, and poetry. He is especially interested in how the Christian contemplative and poetic tradition contributes to the sacramental worldview and how this informs metaphysics, ethics and politics.
He is also interested in Anglican theology and liturgics, environmental philosophy/eco-theology, and the philosophy of technology.
Richard greatly enjoys teaching Critical Thinking, Intro to Ethics, Business Ethics and Intro to Philosophy at Corpus Christi College.
Education
B.A. - University of California, Berkeley
M.A. - Brandeis University
PhD - University of British Columbia