Andrei Golobokov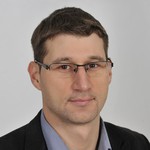 Dr. Andrei Golobokov's research interests center around International Relations, International Security, and Comparative Politics, with a particular focus on Eurasia. His regional area of expertise is Russia / China - Russia relations. Andrei has teaching experience in Canada, the U.S., China, and Russia. He teaches Introduction to International Relations and Politics, Russia/Eurasia in the World, Great Powers in the Asia-Pacific, Governments, Ideologies, and International Organizations.
As a Fulbright Scholar in 2017 - 2018 (the University of Louisville, US), Andrei developed a study on great power strategy in the Asian-Pacific region. The courses he designed tackled key debates about global and regional security, economics/IPE, and the developing world order.
Between 2015 and 2020, Andrei published a number of articles and a book chapter, mostly analytical and empirical papers. The results of his study were presented at the Annual Convention of the Association for Slavic, East European, and Eurasian Studies (ASEEES), Korea-Russia, and China-Russia Forums. His current research project is the nature of the level of analysis and great power engagement types in international institutions, including the security framework on the Korean Peninsula (Six-Party Talks), Shanghai Cooperation Organization, etc.
Education
M.A., Political Science University of British Columbia 2021
Ph.D. in Political Science Far Eastern Federal University, 2012
M.A. and B.A. in International Relations Honors, Graduated with High Distinction Far Eastern State University, 2004
Publications
Golobokov A.S. (2021) The effects of "thick reinforcement" in the Six-Party Talks _International Relations of the Asia-Pacific
Golobokov A.S. (2019) Russian Naval Activity in the Asia–Pacific: The Herald for a New Alliance? _The Korean Journal of Defense Analysis
Golobokov A.S. (2017) Contemporary Foreign Policy of China, Russia, and the United States in the Asia-Pacific. International Relations (Russia)
Golobokov A.S. (2016) Russia in the APR: the role, interests, and priorities of regional security and economic development in interests, tasks, prospects (co-authored with Sevastyanov S.V., Lukin A.L., etc.). Far Eastern Federal University, Vladivostok.
Golobokov A.S. (2016) Various forms and mechanisms of Chinese-Russian cooperation in the energy sphere and the role of non-governmental structures. Pacific Science Review.
Previous Appointments
Teaching Assistant, University of British Columbia
Research Assistant, University of British Columbia
Associate Professor, Vladivostok State University of Economics and Service
Instructor, Far Eastern Federal University
Professional Societies
Association for Slavic, East European & Eurasian Studies
International Federation of Journalists
International Academy of Ecology and Life Protection Sciences
CUPE
Current Research Projects
Great powers engagement in international organizations
Additional Information