Dr. Michael Ledger-Lomas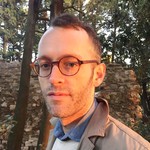 Michael comes to Corpus Christi and St Mark's College from London, UK, and brings with him passionate and overlapping interests in the history of Christianity and in modern British and European history. He is excited to introduce students to historical sources and to explore with them the extraordinary relevance of the past to understanding our present moment.
Current Research Projects
Michael is beginning a new book project on encounters between religions and the British Empire in the reign of Edward VII. He also has essays forthcoming on a variety of nineteenth-century topics: the career and reception of the notorious biblical critic David Friedrich Strauss, royal tours of the world, heretical explorers in the Holy Land, the Victorian controversy over whether the Bible permitted men to marry the sisters of their deceased wives and the sermons of the pioneering scientist William Whewell.
Education
BA, MPhil and PhD in History, University of Cambridge
Publications
Queen Victoria: This Thorny Crown (Oxford: Oxford University Press, 2021)
Editor, The Oxford History of Protestant Dissenting Traditions: The Nineteenth Century (Oxford: Oxford University Press, 2018)
Editor, Dissent and the Bible in Britain, c.1650-1950 (Oxford: Oxford University Press, 2013).
Editor, Cities of God: The Bible and Archaeology in Nineteenth-century Britain (Cambridge: Cambridge University Press, 2013).
Previous Appointments
Lecturer in the History of Christianity in Britain, King's College, London